CHIPCAP-L -
SENSOR, RH/TEMP, 0-1VDC LINEAR OUTPUT, SOP-14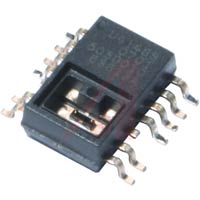 聲明:圖片僅供參考,請以實物為準!
制造商產品編號:

CHIPCAP-L

倉庫庫存編號:

70181322

技術數據表:

Datasheet
由于產品數據庫龐大,部分產品信息可能未能及時更新,下單前請與銷售人員確認好實時在庫數量,謝謝合作!
CHIPCAP-L產品概述
ChipCap provides either analog or digital interfaces on a single, 5 VDC-powered chip. The package is highly resistant to chemical vapors and other contaminants. ChipCap sensors are precalibrated and offer high interchangeability. They also fully recover from condensing environments and may be used across a wide range of both temperature and relative humidity ranges.
Features:

Simultaneous Relative Humidity and Temperature Outputs

Precision Accuracy ±2% RH, ±0.6°C

Resolution 0.4% RH

Factory Selectable Analog or Digital Outputs

Output Configurations Available: Voltage 0 V to 1 V; 10 to 90% of VDD and ZACwire™ Digital Output (8-Bit Humidity)

Factory Calibrated, Ready-to-Use

Designed for Automated Assembly

Supply Voltage: 3.0 V to 5.5 V

Low Quiescent Current: 0.5 mA at 5 V, 25°C

SOP-14 Package
CHIPCAP-L參考庫存及參考價格
0 can ship immediately.
有貨可于1-2周內送達
英國2號倉庫直銷,訂單金額100元起訂,滿300元含運,滿500元含稅運,有單就有優惠,量大更優惠,支持原廠訂貨
99久久国产视频精品视频在线观看,av一区二区无码,2018国产情侣91在线,剧情swag沈芯语,91尤物日韩国产在线视频,国产 自慰 在线 制服,网红少女萝莉萌,国产网红h网站