65039-030LF -
Conn; Rect; Recept Hsg; 2.54mm; 1- Row; Crimp-to-Wire; Mini-PV, Basics+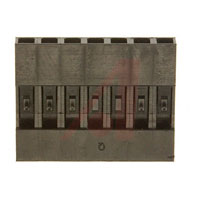 聲明:圖片僅供參考,請以實物為準!
制造商產品編號:

65039-030LF

倉庫庫存編號:

70302468

技術數據表:

Datasheet
由于產品數據庫龐大,部分產品信息可能未能及時更新,下單前請與銷售人員確認好實時在庫數量,謝謝合作!
65039-030LF產品概述
Overview:
The innovative PV® crimp-to-wire system connects discrete wire to printed circuit boards. High reliability dual-metal receptacle terminals plug to industry standard 0.025 inch (0.635mm) square posts. A variety of containment, protection and guidance options are available for both sides of the connector interface.

Features:

Unique dual-metal PV® receptacle contact maintains contact pressure through 1000 mating cycles

A beryllium copper spring provides high normal force at the mating interface, while the brass contact body produces a reliable, gas-tight crimp termination

Choice of three different spring pressures allows the user to customize insertion and withdrawal forces to individual application requirements

Shrouded header side walls engage with the sides of the MINI-LATCH housing to provide additional retention

MINI-LATCH housing firmly retains PV® wire contactsAvailable in single or double row configurations

Keyed MINI-LATCH housings and header keyways provide polarization to prevent mis-mating

Two wall header design provides mechanical benefits plus economy
65039-030LF客戶還搜索了
參考圖片
制造商 / 說明 / 型號 / 倉庫庫存編號
PDF
參考庫存數
操作
65039-030LF參考庫存及參考價格
275 can ship immediately.
有貨可于1-2周內送達
英國2號倉庫直銷,訂單金額100元起訂,滿300元含運,滿500元含稅運,有單就有優惠,量大更優惠,支持原廠訂貨
CNY
11.5
| | |
| --- | --- |
| 數量 | 參考價格 |
| 1 + | ¥11.5 |
| 25 + | ¥10.91 |
| 50 + | ¥10.34 |
| 100 + | ¥9.77 |
| 250 + | ¥9.2 |
| 500 + | ¥8.62 |
99久久国产视频精品视频在线观看,av一区二区无码,2018国产情侣91在线,剧情swag沈芯语,91尤物日韩国产在线视频,国产 自慰 在线 制服,网红少女萝莉萌,国产网红h网站